[China Instrument Network Instrument R&D] On March 7, the Shandong Science and Technology Bureau issued a report saying that in the 26th and 27th navigation satellites of Beidou satellite navigation system launched in China recently, Qingdao Zhongdian Instrumentation The company has provided more than 300 key components.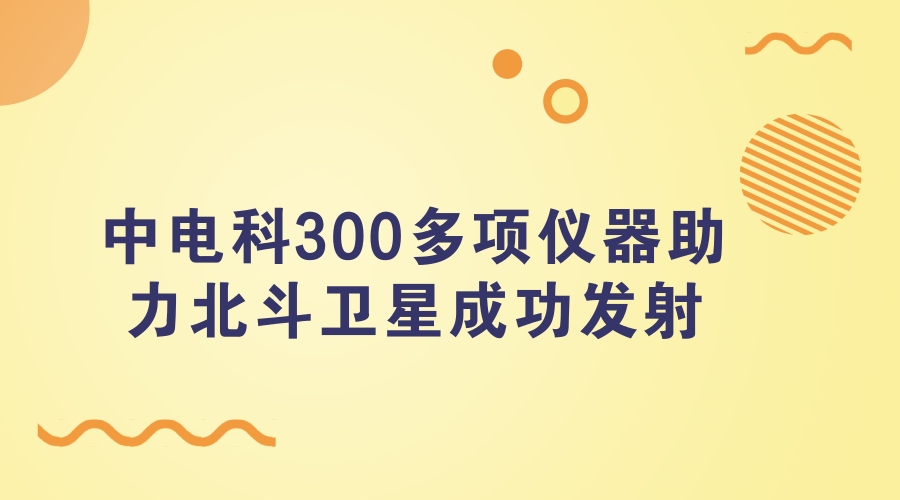 In January 2018, China successfully launched the 26th and 27th Beidou navigation satellites, and will serve countries along the "Belt and Road" at the end of 2018. The Beidou satellite has a very important impact on our lives. The satellite can actively locate the positioning equipment, provide more service functions, and achieve high-precision positioning. The Beidou receiver is installed on the vehicle, and the vehicle trajectory can be recorded in real time through the system. This time, more than 300 key components for the BeiDou satellite navigation system were China National Instrument Corporation.

China Electronics Corporation is the largest integrated electronic measuring instrument manufacturer in China, registered and established in Qingdao with 40 companies and 41 centers of China Electronics Corporation. In recent years, the China National Instrument Corporation closely follows the development trend of the times, through the 4G/5G evolution, the deployment of optical network cities, and the opportunity for great development of the Internet of Things, and through the extensive cooperation with the industry to open up more in mobile communications and the Internet of Things. market.

CECT has successfully developed serialized core components with advanced international standards, filled a number of domestic gaps, and solved key technologies for high-power transmission or backup selection control between the BeiDou satellite payload system and the antenna. Beidou navigation system is "self-controllable" in terms of signal transmission and key core devices, effectively guaranteeing long-life and highly reliable operation of satellites.

Among the more than 300 key devices used this time, many achievements have broken through key technologies. Star high-power RF cable assemblies are used for system high-power RF signal transmission; ultra-miniature millimeter-wave board connectors and cable assemblies are used for signal transmission between boards.

Over the past few years, China National Instrument Corporation has successively undertaken a number of national major science and technology projects, developed new products and technologies in various fields, and continuously improved its ability to transform products into products. Outstanding contribution.

(Source: Science and Technology Daily, Qingdao Full Search Newsletter, Qingdao Municipal Bureau of Science and Technology)
Exsisting Replica wheels for Mercedes cars, which includes CL CLASS 550/600, CL55-CL65 AMG, CL63/65 AMG, CLA 250, CLA45 AMG, CLK CLASS 320-350-430-500, CLASS 350-550, CLK55/63 AMG, CLS CLASS 500-550, CL555 AMG, CLS63AMG, E CLASS 230-320-500, E CLASS AMG, S CLASS 350-430-500-600, S 350, S CLASS S400, S CLASS 550/600, S55-S65 AMG, SL55 AMG, SL63 AMG, SL CLASS, SL55-SL65 AMG, SLK CLASS 230-320, SLK CLASS 250, SLK CLASS 280, SLK55 AMG from 15 inches to 24 inches with different finish, such as silver painted, gunmetal machined face, matt black machined lip ect.
NEXUS WHEEL specializes in wheels, which has an experienced team for more than 10 years, abundant modification data and a keen trend sense. Nexus Wheel will help you to realize your ideas with different certificated wheels(VIA, TUV, ISO16949, SAE) meanwhile, NEXUS WHEEL follows the latest orginal models tightly in order to offer the latest design to the market.
Mercedes Replica Wheels,Mercedes Replica Rims,OEM Mercedes Wheels,Mercedes Amg Rims Black
NEXUS WHEEL , https://www.nexuswheel.com