Model NO.:

69-9102

Certification:

TUV, GS

Model Brush Size:

10X25X23mm

Quality Level:

OEM Quality

Tags:

Quality Assured

Apply:

for Bosch 358, 359 Series Dd Starters

Sample:

Offer

Transport Package:

Blister Card Packing/Normal Polybag/Your Design

Origin:

Shanghai China
Type:

Carbon Brush and Holder Assembly

Voltage:

12V

Certificate:

ISO9001, BV, SGS

Price:

Direct Manufacturer Price

Export Markets:

Global

Key Word:

Carbon Brush and Holder Assembly

Trademark:

IUGIS

Specification:

STANDARD

HS Code:

85452000
                 auto parts 69-9102 motor brush holder for Bosch 358 359 Series DD Starters 
     
carbon brush and holder assembly
WAI
69-9102
OE NO.
2 005 854 084, 2 005 854 053, 2 005 854 136
Brush size
10x25x23mm
Components
68-9116  carbon brush 
Voltage
 12V
Apply for 
Bosch 358, 359 Series DD Starters
Used on car for
Alfa Romeo, Case, Deutz, Fiat, Ford, International, Iveco, John Deere, KHD, Mack, Magirus,
Massey Ferguson, Renault, Volvo, VW
Interchange
FOR:Â Â Â Â Â Â Â Â Â Â Â Â Â Â Â Â Â Â Â Â Â Â Â Â Â Â Â Â Â Â Â Â Â Â Â Â Â Â Â Â Â Â Â Â Â Â Â Â Â Â Â Â Â  DAF:609048Â Â Â Â Â Â Â Â Â Â Â Â Â Â Â Â Â Â Â Â Â Â Â Â Â Â Â Â Â Â Â Â Â Â Â Â Â Â Â Â Â Â Â Â Â Â Â Â Â Â Â Â Â Â Â Â Â Â Â Â Â  FIAT:79034658, 9919502, 9926111Â Â Â Â Â Â Â Â Â Â Â Â Â Â Â Â Â Â Â Â Â Â Â Â Â Â Â Â Â Â Â Â  FORD:715F-11061-CA, 733F-11K151-AAÂ Â Â Â Â Â Â Â Â Â Â Â Â Â Â Â Â Â Â Â Â Â Â Â Â Â  IHC:3078981R91, 3079017R91, 3113011R1Â Â Â Â Â Â Â Â Â Â Â Â Â Â Â Â Â Â Â Â Â  JOHN DEERE:AL25270Â Â Â Â Â Â Â Â Â Â Â Â Â Â Â Â Â Â Â Â Â Â Â Â Â Â Â Â Â Â Â Â Â Â Â Â Â Â Â Â Â Â Â Â Â Â  KHD:1306017, 1310356Â Â Â Â Â Â Â Â Â Â Â Â Â Â Â Â Â Â Â Â Â Â Â Â Â Â Â Â Â Â Â Â Â Â Â Â Â Â Â Â Â Â Â Â Â Â Â  RENAULT:7701009953Â Â Â Â Â Â Â Â Â Â Â Â Â Â Â Â Â Â Â Â Â Â Â Â Â Â Â Â Â Â Â Â Â Â Â Â Â Â Â Â Â Â Â Â Â  VOLVO:243304, 7243304Â Â Â Â Â Â Â Â Â Â Â Â Â Â Â Â Â Â Â Â Â Â Â Â Â Â Â Â Â Â Â Â Â Â Â Â Â Â Â Â Â Â Â  VW-AUDI:061-911-209A Â  Â  Â  Â  Â  Â  Â  Â  Â  Â  Â  Â  Â  Â  Â  Â  Â  Â  Â  Â  Â  Â  Â  Â  Â  Â  Â  Â  Â  Â  Â  Â  Â  Â  Â  Â  Â  Â  Â  Â  Â  Â  Â  Â  Â Â 
All kinds of carbon brush and holder assemblies for automobile starters and alternators.If you still cannot find the holder assembly you want,please feel free to contact us!
For OE NO.:
 
1 004 336 200 Â  Â  Â  Â  Â  Â  Â  Â  Â  Â  Â  1 004 336 245 Â  Â  Â  Â  Â  Â  Â  Â  Â  Â  Â  Â  Â  Â  Â  Â Â  1004 336 518 Â  Â  Â  Â  Â  Â  Â  Â  Â  Â  Â  Â  Â  Â  Â  Â  Â  Â Â 
1 004 336 811 Â  Â  Â  Â  Â  Â  Â  Â  Â  Â  Â  Â 1 004 336 820 Â  Â  Â  Â  Â  Â  Â  Â  Â  Â  Â  Â  Â  Â  Â Â  1 004 336 915 Â  Â  Â  Â  Â  Â  Â  Â  Â  Â  Â  Â  Â  Â  Â  Â  Â  Â 
1 004 336 996 Â  Â  Â  Â  Â  Â  Â  Â  Â  Â  Â  Â  2 005 855 365 Â  Â  Â  Â  Â  Â  Â  Â  Â  Â  Â  Â  Â  Â  Â Â 1 004 336 531Â  Â  Â  Â  Â  Â 
 
1 004 336 963 Â  Â  Â  Â  Â  Â  Â  Â  Â  Â  Â  Â  Â  Â  Â  ****
 
FOR WAI NO.: Â 
    
39-9100 Â  Â  Â  Â  Â  Â  Â  Â  Â  Â 39-9102 Â  Â  Â  Â  Â  Â  Â  Â  Â  69-9100 Â  Â  Â  Â  Â  Â  Â  Â 69-9102
 
69-9105 Â  Â  Â  Â  Â  Â  Â  Â  Â  Â 69-9106 Â  Â  Â  Â  Â  Â  Â  Â  Â  69-9109 Â  Â  Â  Â  Â  Â  Â  Â 69-9110
 
69-9111 Â  Â  Â  Â  Â  Â  Â  Â  Â  Â 69-9113 Â  Â  Â  Â  Â  Â  Â  Â  Â  Â 69-9114 Â  Â  Â  Â  Â  Â  Â  69-9115
 
69-9116 Â  Â  Â  Â  Â  Â  Â  Â  Â  Â 69-9117 Â  Â  Â  Â  Â  Â  Â  Â  Â  Â 69-9118 Â  Â  Â  Â  Â  Â  Â  Â 69-9121
 
 
69-9125 Â  Â  Â  Â  Â  Â  Â  Â  Â  Â  Â *****
Why Choose IUGIS?
1.We can supply various kinds of carbon brush and brush holder for automotive, motorcycle, electric power tools, home appliance etc.
 
2.With advanced technology and automatic machine, quality assured products are produced for customers.Moreover, they have passed the ISO 9001:2001 certification.
 
3.Products are characterized by little spark, low noise, long time, and lubrication.Nonstandard carbon brush can be designed and manufactured as your personal samples or drawings.
4.Any request for dimension and types, please feel free to let us know!We offer good price and fastest delivery!
 
FAQ:
Q:How to get in touch with us?
A:You can click "Contact Now"above,
Q:How to pay?
A:Normally we advise accept T/T, L/C, accept Western Union, Paypal also.
Q:Can you make by customer's design?
A:Yes, we can.Please email your design details to us, we will make as your requirement.
5.What's the delivery time?
A:Normally within 15 days, also depends on your order quantity.
 
As the product design and specification more than the given product attributes, images, prices are for reference only, welcome to send your design and requests to us, thanks.
Winch Hoist is a open winch used as a hoist for Double Girder Overhead Crane, Double Girder Gantry Crane, etc. It can be also used as the gate hoist for hydropower station dam. The open winch hoist is an electric crane widely used in buildings, bridges, metallurgy, mining, etc. for lifting of materials, hoisting projects and dragging of various materials and equipment.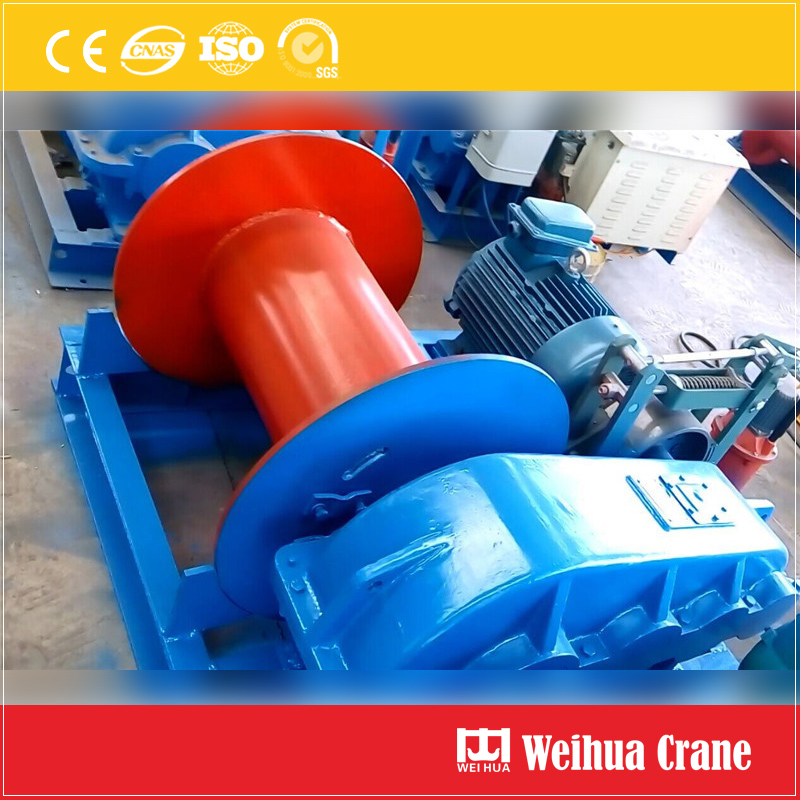 Open winch hoist is also used to pull or lift heavy objects in road and bridge projects, civil construction, mining area, factory, port, marine, etc. For example, Installation and disassembly of large or extreme large steel structure and machinery equipment, reinforce concrete, drag ships, etc.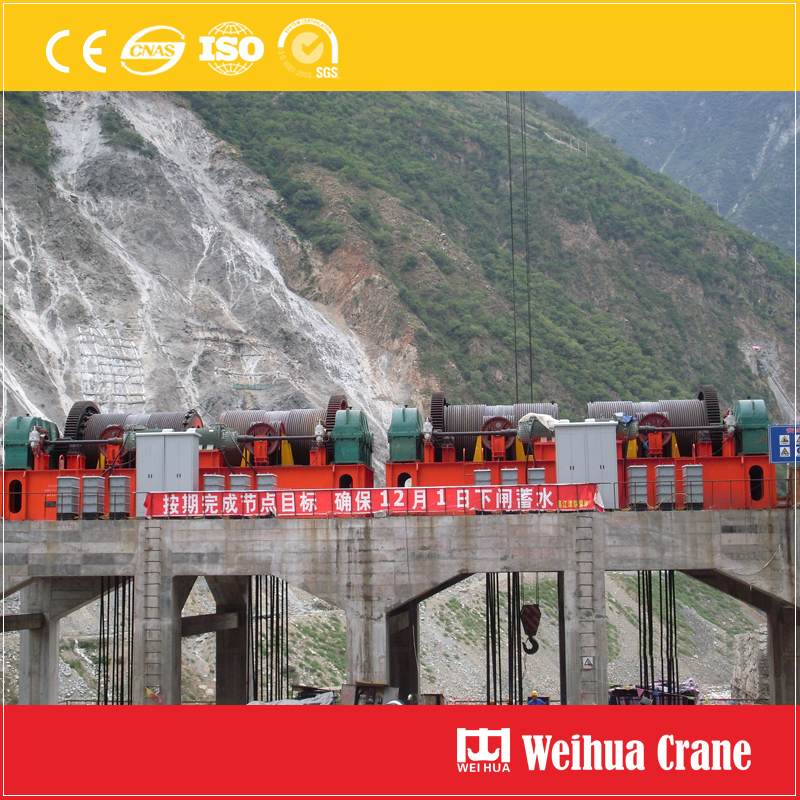 While the gate winch hoist is for hoisting spillway gates, tailrace gate and other gate of hydropower plant. The gate winch hoist is mainly used for hydraulic equipment transport, installation and maintenance of hydroelectric generating units, hoisting of floodgates, trash rack etc.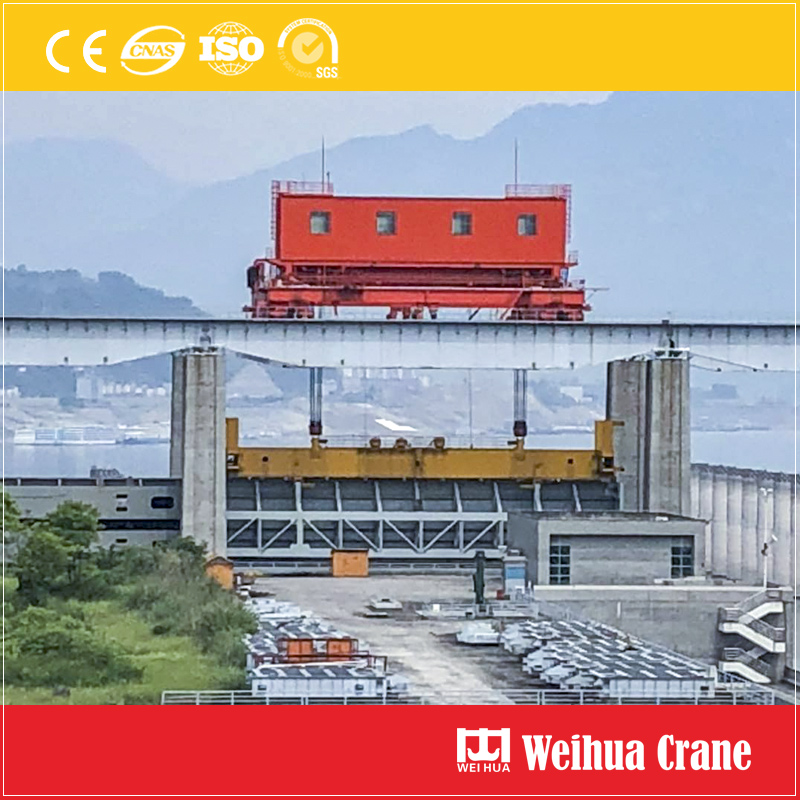 Capacity: 1t ~ 1000t
Lifting height: customized
Lifting speed: customized
Voltage: 220v/380v/400v/415v
Electric: Siemens or Schneider electrical system
Safety: Current overload protection, voltage lower protection
Winch Hoist
Hoist Winch,Floodgate Hoist,Open Winch Dam Hoist,Hydropower Plant Gate Hoist
Henan Weihua Heavy Machinery Co., Ltd. , https://www.weihuacranefactory.com