Position of Pump Shaft:
Horizontal Pump
Pump Casing Combined:
Horizontal Split Pumps
Mounting Height:
Since Irrigation Centrifugal Pumps
Flow Rate:
10m3/H-160m3/H
Pressure or Delivery Head:
15m-300m
Speed:
1450rpm or 2900rpm
Material for Choice:
Cast Iron, Cast Steel, Ss304, Ss316, Bronze
Color:
Customerized Making
Voltage:
380V/400V/415V/440
Temperature:
-15 Centi-Degree to 105 Centi-Degree
Transport Package:
Standard Export Plywood Case
Specification:
ISO9001, CE, SGS
We are professional manufacturer for Horizontal Multistage Pump with high and stable quality, and we have made many water pump solutions for many customers.
1. Multistage centrifugal
2. Inlet and outlet are both at horizontal
3. Small vibration
TSWA Horizontal Multistage Pump
Features:
TSWA Multi-stage Centrifugal Water Pump is a new product which is developed according to our national public security's regulation for the field of high building and fire fighting. Its all series consists of five varieties 40 specifications for conveying water or 80 degrees below the physical and chemical properties of similar liquid water.
Usage:
1. Mainly used in high buildings life water supply, fire fighting system, automatic spraying water under the water curtain, long distance water transportation, water circulation in production process, supporting the use of all kinds of equipment and various production process water, etc
2. It is used in city construction, factories, mines, the water is especially suitable for hotels, restaurants, entertainment refrigeration and air conditioning supply water.
Packaging & Delivery
Packaging Detail: Carton or polywood case.
Delivery Detail: 2 days and above according to clients requirements
Specifications
Multistage pump is a horizontal water pump which is widely used in mines, power stations, chemical plants, water supply system.
Multistage pump TSWA is centrifugal pump with big flow and high head, this pump is widely used in mines, power station, etc. Heavy duty design. Power may be 380V, or 6000V.
Working Principle: Centrifugal, Multi-stage
Main applications: Water
Driver: Electric motor
Power Specs: 380/415 V 3phase; 50Hz/60Hz etc.
Max. Permissible fluid temperature: 80° C
Type of connection: Flange
Installation position: Horizontal
Casing/Inner parts material: Cast iron /Cast iron
Shaft seal type: Mechanical seal; Packing gland
Free passage: 0.1 mm
Maximum gravity: 1.03
Maximum drive rating: 180kW (242HP)
Maximum caliber: 6 inch (150mm)
Maximum dischrage head: 270m
Flow rate range: 18-155 m³ /h (30-2580L/m)
Below specifications is based on 380V/50Hz, for any other standard, pls contact us.
Below parameters is only of part of whole. Pls contact us for full specifications.
specification and performance parameter
Model
Capacity(m3/H)
Head (M)
Power(KW)
Rotary speed(rpm)
 
6-25x3
7.5
73.5
5.5
2950
 
25-30x7
30
192.5
30
2950
 
46-30x3
55
81
22
2950
 
46-50x6
50
288
75
2950
 
80-30x3
26
102
18.5
2950
 
80-30x10
48
278
55
2950
 
155-67x9
185
531
440
2950
 
45-80x7
62
477
160
2950
 
85-80x8
85
640
290
2950
 
for more detailed specification and performance data , please contact us directly by email or call.
Goodsense Passenger Stair advantages:
STB44 passenger stair is a kind of special ground support equipment to ensure comfortable embarkation of passengers aboard the plane. Different from the tow tractors, the passenger stair is only used to embark the passengers.
Product Highlight:
Large span supporting, good stability, multiple protection and emergency measures,
Adopt wide view glass window in both front and back for safe driving and large angle observation
Advanced hydraulic technology ensures the stable performance and low failure rate.
High quality material for the platform structure
Flexible structure for different aircraft doors.
General

Model

STB44

Power Type

Electric

Service Weight

kg

7500

Overall Length

mm

6650

Overall Width

mm

2240

Height

mm

3400

Wheelbase

mm

3000

Travel Speed (No Load)

km/h

30

Wheel Thread (F/R)

mm

1730/1730

Max Load Capacity

6000KG/80 persons

Front Platform Load Capacity

750KG/10 persons

Mid Platform Load Capacity

600KG/8 persons

Fixed Ladder Load Capacity

2550KG/ 34 persons

Scroll Ladder Load Capacity

2100KG/ 28 persons

Front Platform Height (extended)

mm

4400

Front Platform Height (Lowered)

mm

2200

Front Platform Width

mm

1990

Stair Width

mm

1290

Stair Title Angle

degree

35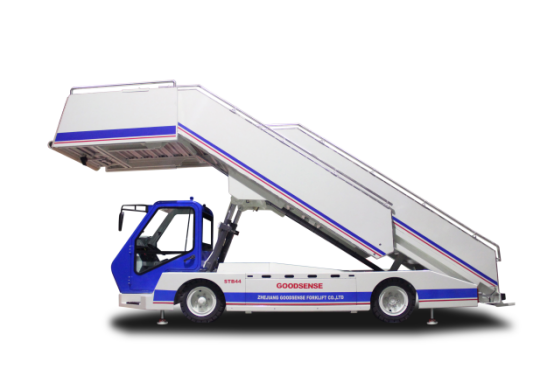 Application Area:
1.Airport
If you have any other questions,please contact us directly.Our forklift are all with high quality,and you can choose any other engine to equip.It can be produced according to your idea.And we invite you to visit our factory.
Passenger Stair
Passenger Stair,High Efficient Passenger Stair,Useful Passenger Stair,Aircraft Towing Tractors
ZHEJIANG GOODSENSE FORKLIFT CO.,LTD , https://www.dieselforklift.nl