With the increasing popularity of high-efficiency equipment such as CNC machine tools and machining centers, cutting and processing has entered a high speed driven by unprecedented developments in the aerospace, automotive, high-speed train, wind power, electronics, energy, and mold manufacturing industries. A new era of high-speed machining and development marked by high efficiency and environmental protection – modern cutting technology.
High-speed cutting, dry cutting and hard cutting are important development trends of the current cutting technology, and their important status and role are increasingly prominent. The application of these advanced cutting technologies not only doubled the processing efficiency, but also actually promoted the process of product development and process innovation. For example, the cavity of a precision die hard material, which uses high rotational speed, small feed, and deep processing of snacks, can achieve high surface quality while eliminating grinding, EDM, and manual polishing or reducing the time required for the corresponding processes. Shorten the production process and increase productivity.
In the past, when some companies produced complex molds, they basically needed 3 to 4 months to be delivered, but now they can be completed in half a month after high-speed cutting. According to surveys, 60% of the general machining tools can be processed with high-speed machining processes.
In high-speed machining, it not only requires high tool reliability, good cutting performance, stable chip breaking and chipping, but also high precision, quick change or automatic replacement. Therefore, higher requirements are placed on the tool material, the tool structure, and the mounting of the tool.
Tool material requirements
The most prominent requirement for high-speed machining tools is that they must have high hardness and high temperature hardness, but also have sufficient fracture toughness. For this purpose, fine-grain carbides, coated carbides, ceramics, polycrystalline diamond (PCD), and polycrystalline cubic boron nitride (PCBN) must be selected—they have their own characteristics, adaptable workpiece materials, and The cutting speed range is also different. For example, high-speed machining of non-ferrous metal parts such as aluminum, magnesium, and copper mainly uses PCD and CVD diamond film-coated tools. High-speed machining of castings, hardened steel (50~67HRC) and chilled cast iron mainly use ceramic tools and PCBN tools.
Shanghai Volkswagen Automotive Co., Ltd. adopts cubic boron nitride CBN300 face milling cutter manufactured by Seco Tool (Shanghai) Co., Ltd. to mill the engine block plane (casting) at a high speed on a flexible production line. The cutting speed is as high as 1600m/min and the feed speed is 5000mm/. Min. The cutting speed of aluminum alloys processed by PCD tools is generally 3000-4000 m/min, and the highest one is 7500 m/min. The machining speed of hardened and chilled cast iron with ceramic and PCBN tools has reached 200m/min.
1. Cemented carbide has entered the fine-grained ultra-fine grain stage
Although coated carbide tools (such as TiN, TiC, TiCN, TiAlN, etc.) have a wide range of materials for processing workpieces, the oxidation temperature is generally not high, so it is usually advisable to process steel within the cutting speed range of 400-500 m/min. Pieces. Ceramic and PCBN tools are available for Inconel 718 high-temperature nickel-base alloys. According to reports, Canadian scholars use SiC whiskers to toughen ceramics to mill Inconel 718 alloys. The recommended cutting conditions are: cutting speed 700m/min, eating depth 1-2mm, and feed per tooth 0.1-0.18mm/z.
At present, the cemented carbide has entered the development stage of fine grain (1-0.5μm) and ultrafine grain (<0.5μm). In the past, fine grain was mostly used in K (WC+Co) cemented carbide, in recent years, P-type (WC+TiC+Co) and M-type (WC+TiC+TaC or NbC+Co) cemented carbides also develop toward grain refinement.
In the past, in order to increase the toughness of cemented carbides, the content of cobalt (Co) was usually increased. The resulting reduction in hardness can now be compensated by refining the grains and increasing the bending strength of cemented carbides to 4.3 GPa. , Has reached and exceeded the high-speed steel (HSS) bending strength, has changed the general belief that P-type hard alloy is suitable for cutting steel, and K-type hard alloy is only suitable for the processing of non-ferrous metals such as cast iron and aluminum selection .
WC-based ultra-fine grain K-type hard alloy can also be processed a variety of steel materials. Another advantage of fine-grained carbides is the sharp edge of the tool, which is especially suitable for high-speed cutting of viscous and tough workpiece materials. Take the AQUA twist drill developed by Japan Fujiyoshi Co., Ltd. as an example. It is made of fine-grain cemented carbide and coated with a heat-resistant, friction-resistant lubricating coating. When high-speed wet machining of structural steel and alloy steel (SCM), cutting is performed. Speed ​​200m/min, feed speed 1600mm/min, processing efficiency increased 2.5 times, tool life increased by 2 times; dry drilling, cutting speed 150m/min, feed speed 1200mm/min.
2. The coating is upgraded to a new stage of development of thick film, composite and multiple coatings
Nowadays, coatings have entered a new phase of development of thick film, composite and multi-component coatings, newly developed TiCN, TiAlN multi-element ultra-thin, ultra-multilayer coatings (up to 2000 layers of ultra-thin film coatings, The thickness of each layer is about 1 nm) combined with TiC, TiN, Al2O3 and other coatings, together with the new anti-plastic deformation matrix, to improve the toughness of the coating, the bonding strength between the coating and the substrate, and to improve the wear resistance of the coating. With major progress, the performance of carbide has been fully improved.
Coated tools have become the hallmark of modern cutting tools, with up to 60% of the tools used. The products coated with carbide cutting tools have now become branded, diversified and generalized. For example, an ultra-long-life LL-coated end mill made by Schnell (Germany) using nanotechnology can increase the tool life by 2-3 times when the machined parts have a hardness of more than 70 HRC hardened die steel. Taobao women's thin waist breast red blood acne acne products which kind of good skin care detoxification method which kind of good pores body wrinkle what brand of good
Sweden Sandvik's newly introduced three kinds of coated blades (GC4225, GC4240, GC1030) have a wider versatility, GC4225 (breakthrough number one) as an upgraded product of GC4025 (P25) grade, when used to process automotive crankshaft steel forgings, The tool life under the same cutting conditions can process 41 parts per cutting edge, while the GC4025 can process 14 parts per cutting edge.
Seco Jabro's new Solid Carbide Universal Milling Cutter Solid2 series not only uses a new material, but also introduces a new coating. The applicable processing temperature is increased from 800 degrees Celsius to 1100 degrees Celsius. , Significantly improve processing efficiency and tool life. At the same time, the Solid2 series adopts the blade passivation treatment and the radial full-circumference shovel back treatment technology, which makes the combination of coating and material of the cutter more perfect, and the re-grinding times of the cutter are also greatly improved.
The H7 blade system TiAlN coating that Kennametal Company introduces in the United States, is designed for high speed milling alloy steel, high alloy steel and stainless steel. The hole-cutting tool coating marketed by Germany's Guhring Co., Ltd. under the trade name "Fire" is a versatile composite coating that combines TiN, TiCN, and TiAlN coatings. The advantages of the material apply to both dry and hard cutting as well as general cutting.
It is particularly worth emphasizing that the technology of coating diamond on the surface of cemented carbide developed in recent years has made the overall improvement of the cutting efficiency of cemented carbide not only in the ferrous metal field but also in the non-ferrous metal field. It can be seen that cemented carbide will continue to be the main substrate material for high-speed machining tools in the future.
At present, the United States, Sweden, and Japan have all introduced diamond-coated taps, drills, end mills, and chipbreaker indexable inserts (such as Sandvik's CD1810 and Kennametal's KCD25). High-speed precision machining of non-ferrous and non-metallic materials. Another CBN coating suitable for processing steel materials has also been successfully developed and is moving towards industrial trials.
Tool geometry and chipbreaker requirements
1. Geometric parameters
In high-speed and dry cutting, the main cause of tool failure is crater wear and thermal wear at the tip.
This is due to the higher temperature at the interface between the tool and the chip, and the contact area between the tool and the workpiece. Therefore, high-speed machining is required to obtain a slightly larger tool front angle than normal cutting to reduce the temperature in the cutting zone and to make negative chamfers on the cutting edge.
In order to prevent thermal wear at the tool tip, the main and auxiliary cutting edges should be connected with a round tip or a chamfered tip to increase the tip angle and increase the length of the cutting edge near the tip and the volume of the tip material. Improve tool rigidity and reduce the probability of cutting edge damage.
A new type of ME-13 carbide insert suitable for dry cutting has been introduced by Carboloy, USA, which has a large rake angle (up to 34°), a reinforced edge and a ribbed rake face, which significantly reduces chipping. The area of ​​contact with the rake face of the blade causes heat to be carried away by the chips. The blade is said to operate at a temperature 400 °C lower than conventional blades, significantly reducing cutting forces and doubling tool life. The company used high-front angle coated carbide tip end mills for high-speed milling hardness up to 55HRC die steel, cutting speed 120m/min, feed speed 7.6m/min, axial eating depth 0.51mm, radial eating Deep 0.25mm, dry cutting, tool life up to 1.5h.
In foreign countries, helical cutting blades with positive rake angles have been developed to provide more reasonable geometric parameters. The blade has almost constant rake angle along the cutting edge. The back rake angle or side rake angle can be changed from negative to positive. From small to large, cutting is more light and smooth, the cutting performance of indexable face milling cutters, end mills and slot milling cutters is raised to a new level, tool life can be increased by 50% to 250%, and cutting efficiency is increased by 30%. -40%.
A U.S. company adopts this new type of blade end mill for dry milling around the 17-4PH stainless steel, the cutting amount is: milling speed 304m/min, feed speed 1270mm/min, feed per tooth is 0.14mm/z, 20S removal margin 36cm3.
2. Chip breaking type
For stable chip breaking and chip breaking, a suitable chip breaker type must be made on the insert. At present, the design and manufacturing technology of the three-dimensional surface chip-breaker type on the indexable insert has become more mature. For different workpiece materials and different cutting amounts, corresponding universal chip-breaker series have been developed.
For example, R, M, and F trough series (Sandvik, Sweden) adopts grooves of PR, PM, and PF for roughing, semi-finishing and finishing, and MR, MM, and MF for cutting stainless steel. The slot designs of KR, KM, and KF for castings and non-ferrous metals, as well as the slot designs typical of Israel's Iscar's "Overlord Knife" are unique.
The chip breakers on these blades have a wide range of chip breaking and good adaptability. Both of them have a space cutting edge and a curved rake face, and the front rake angle on the cutting edge can be adjusted to zero or negative value, and the rake angle is a proper positive value, so the cutting force is small, the cutting edge strength is high, and the anti-high speed is The wear ability is strong, indicating the direction of the development of high-speed machining tool cutting edge structure.
Pump Shell is a main part of Dredge Pump

dredge pumps ranging from inlet diameters of 400mm up to 1400mm. Our CFD optimized pumps have an excellent suction performance, high efficiency, long wear life and require a minimum of maintenance. The pumps can be delivered in different types of wear resistant materials, and can be executed in a large number of different configurations.
Photo of our Pump Shell: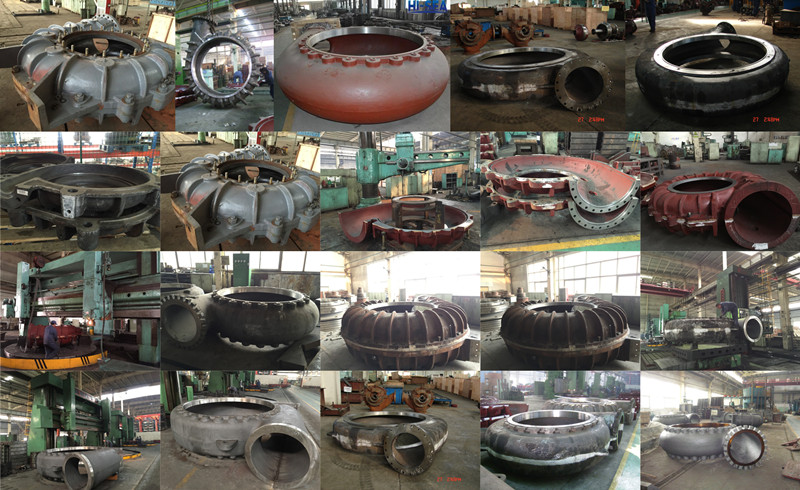 Single-Walled Dredge Pumps
single-walled dredge pumps are `all-round` and used in all types of dredgers. They are designed for typical pump pressures up to 16 bars, and can be excecuted with different types of pump seals such as: stuffing box, mechnical seal or hydro seal.

Double-Walled Dredge Pumps
double-walled dredge pumps are specially designed for high pressures, starting typically from 16 up to 30 bars. The double-walled pump design is based on the concept of pressure compensation between the outer-, and inner-pump casing. All types of configurations are possible such as 3,4 and 5 vane impellers, and casted or welded outer-casings.

Underwater Dredge Pumps
The underwater dredge pumps are used in cases where the highest possible suction performance is required. They basically have the same possibilities and options as our single-walled pumps have. Depending on our clients' preference they are executed with direct motor drive or integrated gearbox, with or without pressure compensation.
Casting
1)Pattern
Collection in our storehouse. Inspection of pattern in our workshop.
Pieces cast with wrong pattern due to insufficient inspection of pattern are rejected.
Free delivery of pattern (in good condition) with last cast piece of order to our client or stored in our workshop for future new production but with time-limited or quantity-bound.

2)Cast pieces
Material
The use of the cast pieces requires other chemical analysis and mechanical properties (unless otherwise mentioned on drawing).
Cast pieces group S (Wear) :
Impellers, pumphousings, dredge lines (bends, branchpipes, etc.)
Cast pieces group C (Construction) :
Other pieces as pivots, rod eyes, wire sheaves etc.
Pump Shell
Shell Air Pump,Shell Pump Locator,Shell Pump Station,Pump Shell
Unisite Group Ltd. , https://www.shipsparts.nl