1. INTRODUCTION Oilfield combined station is one of the important links in the crude oil production process. It is a comprehensive production plant integrating crude oil dehydration, crude oil stabilization, sewage treatment, high-pressure water injection, oil well mixed heat, crude oil storage and transportation and other processes. The key units of the continuous production of the "first-grade fire protection, Class A explosion-proof" oil field, the detection and monitoring of their production process not only directly relates to the product quality of the finished crude oil, but also relates to the energy consumption of the equipment, and more importantly, it determines the safety of the production process. Smooth operation and economic benefits of crude oil production.
2. Design Ideas and Technical Solutions and Approaches 2.1 General Design Ideas The application research project of optical fiber sensing and control technology at the oilfield combined station is to use optical fiber sensing technology with:
(1) to achieve non-electric detection, truly intrinsically safe, explosion-proof;
(2) to achieve non-contact detection, no pollution, high insulation;
(3) Anti-electromagnetic interference, high detection accuracy.
Wuhan Gongda Optical Fiber Sensing Technology Co., Ltd. has successfully applied to industrial production process parameter detection optical fiber products and three new types of optical fiber sensors jointly developed with Henan Oilfield as the leading sensors for on-site inspection, supporting advanced pressure and temperature sensors and Today's internationally popular distributed computer real-time monitoring technologies form advanced and complete production process control systems and safety monitoring systems, improve the status of production and safety management at the entire station, improve production management, improve intrinsic safety, and reduce labor intensity of workers; The collection and production modernization management has created a new road.
2.2 General objectives of the project (1) The joint station oil, water and gas treatment system adopts advanced optical fiber sensing technology to realize automatic detection, control, display and alarm of various parameters in the production process;
(2) Water injection tanks, crude oil tanks using optical fiber level meter to achieve automatic detection, high alarm;
(3) Automatic detection, control, and alarm of crude oil export;
(4) Implementation of management, control integration and intelligence in the station;
(5) Establish a fast real-time communication of production control systems and safety control systems, and use dynamic data exchange technology to develop data interfaces for production control systems and safety control systems;
(6) The safety management meets the safety management specification requirements of Sinopec Corporation;
(7) to achieve station, factory, bureau computer network management.
2.3 The main research content (1) oil three-phase separator oil, water level automatic detection and control;
(2) Natural gas three-phase separator natural gas pressure automatic detection and control;
(3) Level detection, control and alarm of crude oil stability tower;
(4) Automatic detection of light oil tank level;
(5) Automatic detection of liquid level in water injection tanks and crude oil tanks;
(6) Automatic alarm of high level of crude oil tank;
(7) Automatic detection of crude oil tank temperature;
(8) Automatic control of oil well watering system;
(9) Automatic detection and alarm of pressure and temperature in crude oil pipelines;
(10) Automatic control of smooth crude oil export;
(11) Three-phase separator automatic temperature detection;
(12) well row to detect oil temperature;
(13) Fire system pressure detection;
(14) Centralized monitoring and display system at the joint station: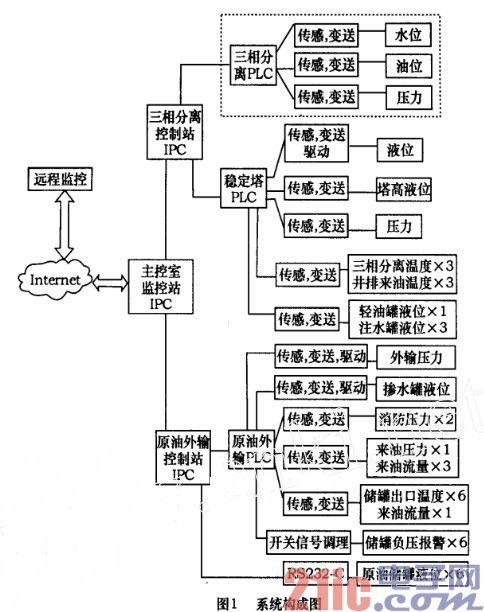 2.4 Technical solutions and solutions (1) The introduction of fiber-optic sensor technology into the joint station The introduction of fiber-optic sensor technology into the joint station means the use of fiber-optic sensor technology: Non-electricity detection, intrinsically safe and explosion-proof; non-contact detection , Non-pollution, high insulation, anti-electromagnetic interference ability, high detection accuracy, solve the liquid level detection and alarm of crude oil tank, solve the negative pressure detection and alarm of the tank, solve the crude oil flow detection and signal transmission, solve the three-phase Separator oil, water level detection and signal transmission.
(2) Development and development of corresponding optical fiber sensors Since optical fiber sensing products enter the oil field coalition station very late, there is currently no large-scale application. Therefore, mature optical fiber sensors cannot fully meet the needs of joint station detection. To complete the technical content of the project research and achieve the overall goal of the project, it is necessary to combine the specific process conditions of the joint station process to develop and develop corresponding fiber optic sensors.
(3) The development of optical fiber ball level transmitter developed for the oil, gas, water three-phase separator oil, water level detection of optical fiber float level transmitter, to replace the current use of pneumatic instruments, to solve The phenomenon of blocking, leakage, and freezing during the transmission of traditional pneumatic signals improves the rapidity of control, and the reliability of detection and control.
(4) Development of optical fiber flow meter applications Volumetric flow detection principle uses optical fiber conversion and transmission methods to achieve crude oil flow detection and remote transmission, to solve the traditional electrical instrument due to the long transmission distance and low anti-interference ability to avoid strong interference, the detection system Misoperation.
(5) Development of storage tank optical fiber negative pressure alarm to solve the problem of negative pressure detection and alarm of crude oil storage tanks, which can effectively prevent the occurrence of negative pressure tank accidents due to blockage of breathing valves.
(6)Automatic control of oil well watering system and automatic control of crude oil exporting for smooth oil delivery The use of frequency converter and pressure detection constitutes a closed-loop loop to ensure that the pump operates in an efficient economic zone, achieves energy conservation and consumption reduction, reduces equipment maintenance rate, and improves equipment use. life.
(7) Production process control system and safety monitoring system, to achieve the production of joint stations adopts the currently internationally popular distributed control technology and modern network technology to form an advanced production process control system and safety monitoring system, to achieve the joint station production, security real-time Monitoring and management, and integrating the real-time production and safety information of the joint station into the oilfield development network and safety information network, providing timely, comprehensive, and accurate information resources for decision-making of oil field operation management.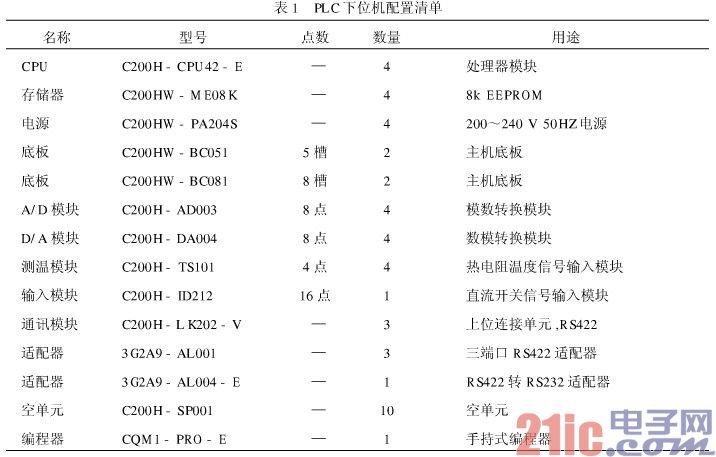 3. Application of fiber optic sensing and control technology at the joint station 3.1 System composition and characteristics In the system composition, the on-site primary instrument uses fiber optic sensors, intrinsically safe pressure transmitters and temperature sensors, and the control system uses today's more advanced "whole" Solution: In order to further increase the comprehensiveness, reliability, stability, and security of the system, the technology uses the internationally popular MVC technology in software design. The presentation layer, control layer, and data layer are separated, and the three layers complement each other. In the use, it intuitively reflects the multi-level working methods of field level, monitoring level, engineer and operator level, and enterprise management level, realizing the true ideal platform for factory integrated automation, and the advanced control of the real process industrial production process. Scheduling and management mode.
(1) System composition The system consists of external transmission control stations, internal transmission control stations (three-phase separation and stabilization control stations), master control stations, crude oil tank area safety monitoring systems, and accident planning management. The control system, the internal transmission control system and the general control part and the crude oil tank area safety monitoring system are relatively independent, and they are closely related to form an organic whole.
Accident plan management is based on site safety management regulations and past experience in handling accidents. It is installed in a system file in the form of a text file to guide and assist operators in the rapid and accurate operation and handling of emergency situations.
(2) System features a) High-precision measurement, intrinsically safe explosion protection;
b) an open architecture that can provide multiple layers of open data interfaces;
c) High reliability, stability, safety, convenient maintenance and advanced technology;
d) Rich Chinese character graphics Rich Chinese character graphics, sophisticated and beautiful interface, using the animation technology, graphic zoom technology, multi-level window technology, various data, curves, bars and other real-time display;
e) Support various production reports and graphic printing functions;
f) Rich historical records, alarm records and accident recall analysis functions;
g) Powerful system self-diagnosis function and fault alarm function;
h) The management team adopts the standard 100Mbps Ethernet (TCP/IP protocol), and applies the local area network to connect the joint station directly to the oilfield development network and the security information network.
3.2 The main technical indicators of the system (1) Liquid level control accuracy ± 5cm;
(2) pressure control accuracy ± 2kPa;
(3) liquid level detection of large tank ± 2mm;
(4) temperature detection ± 2 °C;
(5) Historical data is retained for 7 days;
(6) Network data transmission error ∠0.5‰.
3.3 System Design (1) Control System Hardware Configuration The system lower-level PLC adopts the C200Hα series machine of Japan Omron Plantation Club. The SYSMACα series PLC is a new generation of C200 series PLC products introduced by OMRON after C200H and C200HS. Its purpose is to meet the high level of production automation control needs, provide powerful data processing capabilities while not weakening the PLC function, improve communication functions, optimize the network structure, and accelerate the direction of the data factory. Compared with the traditional C200H and C200HS series PLCs, SYSMAC α series PLCs, in addition to the basic performance improvement, it has made major improvements in communication and data processing, and has provided support for integrated control and management systems. , represents the development direction of today's PLC.
In short, it is a medium-sized machine with a moderate price and high cost performance. It is equipped with a strong instruction system. Ladder diagrams and statements are emphasized. Many special instructions are added, which greatly facilitates the user's programming. In addition, it is equipped with a wealth of special modules and powerful communication templates to achieve multi-level requirements for factory automation. The C200Hα series PLCs used in this system are rack-mounted. Various I/O units, special function modules, communication boards, CPUs, and power supply units are all mounted on a single backplane, and are occupied differently according to the occupied slots. Memory unit. Its user program storage area is 7.2K words. I/O is allocated with two I/O expansion racks. The maximum number of control points is up to 1140 points. The basic instruction execution time is 0.313 microseconds, and the special instruction execution time is 1.250 microseconds. Second, it can fully meet the needs of process control. It supports a variety of special I / O units and communication templates, can easily communicate with the host computer IPC, PLC and remote I / O unit, easy to use. The PLC selection of this system is shown in the attached table.
(2) Control System Software Programming Software: SYSMAC-CPT (English) SYSMAC-CPT is a ladder diagram programming tool developed by OMRON based on the WINDOWS95/98 operating platform. It is used to compile the PLC ladder program on an ordinary personal computer, and the program is transmitted to the PLC through the serial port, online monitoring of the PLC operation and the state of each register, and setting various parameters of the PLC. It supports ladder diagrams and mnemonics in two ways, can be converted to each other, using extremely convenient. For specific unit modules and address assignments, see Hardware Design and Software Design of each PLC.
4. Conclusion The application of optical fiber sensing and control technology in the oilfield combined station research project has eliminated safety hazards through research and implementation, improved the safety and automation management level of the joint station, and has obvious energy saving and consumption reduction effects. Has a good promotion value.
(1) Large-scale application of fiber optic sensing and control technology to oil and gas processing and gathering and transportation technologies. Using fiber optic technology to achieve unique features such as high-precision, non-electrical non-contact detection, etc., Weigang United Station achieves multi-parameter and multi-parameter all-weather Automatic detection and monitoring, so that the station management and control to achieve integration and intelligence;
(2) Three new types of optical fiber sensor tank negative pressure alarms, optical fiber flowmeters, and fiber float level gauges developed and researched are the first applications in the country. They have good performance, reliable operation, and greatly reduce flammable and explosive sites. Security risks enhance the intrinsic safety management of the joint station;
(3) Significant economic benefits The system ensures the smooth operation of the gathering and transportation equipment, water injection and water-mixed equipment in the high-efficiency economic zone, realizes energy conservation and consumption reduction, the system operates smoothly, improves the pump operating environment, and reduces the equipment damage rate. Achieve the integration of multiple jobs and reduce the labor costs of oil and gas gathering and transportation;
(4) high degree of automation and timely production of abnormal alarm, automatic collection of the entire process parameters, automatically generate production reports, reducing the labor intensity of workers;
(5) The introduction of international Internet technology and the implementation of remote monitoring and remote monitoring provide real-time basis for decision-makers at all levels to understand the safety production information of flammable and explosive sites, and provide basis for the analysis of production abnormalities.
By fully leverages Sandvik's world leading technology and Lingong competitiveness on the R&D and manufacturing know-how on the underground and surface loading and hualing equipment respectively, LGMRT provides middle market customers with products that are highly safe, highly reliable on the cost performance, aiming at effectively reducing the cost per ton of the ore for customers.
Underground scooptram
Jinan Lingong Mining& Rock Technology Co., Ltd. , https://www.lgmrt.com